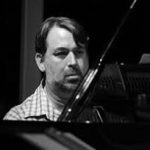 Darin Clendenin is recognized as one of the Northwest's finest pianist and keyboard artists. Fluent in numerous styles of music, his stylish interpretations of everything from old classics to jazz standards, from classical to modern works enchant audiences everywhere. His performances, as well as his arranging and composing talents, are sought after for their artistry as well as their magical innovative mix of styles.
Past performances include: Opened for Herbie Hancock, Zoo Tunes Concert Series, Seattle; Mt. Hood Jazz Festival; International Jazz Festival; Du Maurier Jazz Festival; Toronto Jazz Festival; Ballard Jazz Festival; Port Townsend Jazz Festival; Rising Jazz Stars Foundation, Beverly Hills, CA; Portland Jazz Festival; Blaine Jazz Festival Clinics and Concerts; Bumbershoot, Seattle; Jazz in the Valley; and Anacortes Arts Festival.
He also has performed with numerous jazz legends, including Nancy King, Ernestine Anderson, Leroy Vinnegar, Mel Brown and Ron Steen. His work can also be heard on numerous recordings.

For more information click the link below